The GIST's Guide to Rugby
Wanna ruck?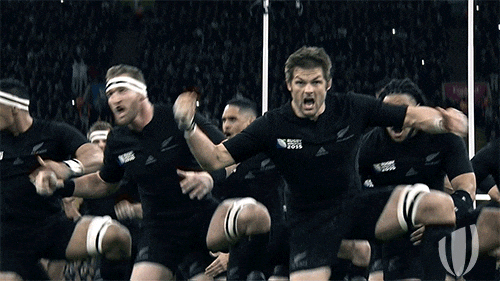 The GIST
Rugby is played on a grassy field (known as a pitch) with 15 players per team. It can, however, also be played with just seven players per team in a version that's called sevens rugby or often just 'sevens' (that made its debut in the Olympics in 2016). There are also other variations of rugby, including rugby football and Aussie rules, which are most commonly played in Australia.
The scoring system in a rugby match is similar (but not exactly) to good ol' American football. Scoring a try is worth five points and occurs when a player touches the ball down in the end zone (similar to football). After every try is scored, the scoring team has the opportunity to kick a conversion (like a field goal) for two extra points. Games are divided into two 40-minute halves and time expires when the ball is "dead" (kicked out of bounds) after the 80-minute mark. In sevens rugby, the games are only seven minute halves because there's a lot fewer players covering the same size of field, and that's just tiring AF!
How is rugby organized?
Canada doesn't have its own professional rugby league (yet!). There are, however, local club rugby teams all across Canada and many high schools and universities have rugby clubs. Aside from our national teams, the most notable team in Canada is the Toronto Wolfpack, the world's first transatlantic rugby team. WTF does transatlantic mean?! Well, the team is based in Toronto, but plays in the British Rugby Football League in England. Yep, this means lots of flying, jet lag, Spice Girls, tea and scones. The British Rugby Football League is made up of a four-tiered system. The Wolfpack currently play in the Championship League, which is the second tier and unfortunately just missed being promoted to the Super League (highest tier) for the 2019 season. Damn, Daniel.
The best of the best
Hockey is synonymous with Canada and vice versa, right? Well, the same goes for rugby in England, Scotland, Ireland, South Africa, New Zealand and Australia. Now, if we had to narrow it down to the two best teams in the world, it would be the New Zealand All Blacks and the South African Springbok. The All Blacks have won the most Webb Ellis Cups (the trophy you win for capturing the Rugby World Cup title) with a total of three, while the Springbok have won two titles of their own.

All Blacks stud Dan Carter retired from international play in 2015 but remains the highest point-scorer in test match rugby (a fancy way to say an international match between two senior national teams). Carter still plays club rugby for the Kobelco Steelers in Japan and plays the position of center or fly-half. Owen Farrell plays for the English national team, as well as the Saracens in London, England. He is one of the best (looking) converters in rugby, with more than 100 successful conversions in international play. Not too shabby!
Didn't your mama tell you not to ruck with a girl?
Let's just say on the men's side, rugby isn't really Canada's thing. So thank goodness our Canadian women kick some serious ass (typical). At the 2016 Rio Olympics, the Canadian women's sevens team captured the bronze medal with a dominant win over Great Britain. These women also won the gold at the 2015 Pan Am Games in Toronto, which really helped grow the sport in Canada. Brittany Benn, Ghislaine Landry, and Bianca Farella (GIST Athlete Ambassador) are a few of Canada's best current players on the pitch.
Landry is the captain of the sevens program, who are going to be strong contenders for gold at the 2020 Summer Olympic Games in Tokyo. These women live and breathe rugby and also love empowering women and encouraging young girls to get into the sport. PREACH, BABY, PREACH! After you've got #thegist on rugby, maybe it's time for YOU to throw on some cleats and show the boys who's boss.
Let's get local
The Toronto Arrows rugby team was founded in 2017 (as the then Ontario Arrows) and joined the Major League Rugby (MLR) professional league in North America for the 2019 season. MLR consists of nine teams — eight based in the United States and one based in Canada (the Arrows). This league is the highest level of professional rugby in North America and the league is set to expand in 2020 with three additional teams (Atlanta, Boston and Washington, D.C.). The MLR season spans six months from late January through to mid-June. Go get em' boys!
Arrows Fun Facts:
Brian Burke (former GM of the Toronto Maple Leafs) is a huge supporter of rugby in Canada and is a part owner of the team.

Canadian International rugby player, John Moonlight, retired from international play in late 2018 but came out of of retirement to play flanker (more on positions below) for the Arrows.
And you know we have some trivia…
This is more of a FYI but, you cannot "forward pass" the ball in rugby — it must be thrown backwards to a teammate. However, you can kick the ball forward along the ground and then run to grab it!

The Rugby World Cup (RWC) is hosted every four years. The next men's RWC will be hosted in Japan in fall of 2019 and the women's is set for 2021. The seventh women's World Cup was hosted in Dublin, Ireland in 2017 with record-setting attendance. New Zealand took the win.

You don't get to pick your jersey number in rugby because jersey numbers are assigned to specific positions. Example: 9 = scrumhalf, 15 = fullback.

Rugby was invented when William Webb Ellis was playing soccer, caught the ball and ran to the goal while carrying it. Rules are made to broken we guess?


That's #thegist of it!
Written by Guest Writer & Rugby Guru: Victoria Spanton
Don't get The GIST's twice-weekly newsletter yet? Let's make it email official.
Try:
This is the 'touchdown' of rugby and occurs when a player gets the ball into the opposing team's end try zone and is able to touch the ball to the ground (if the opposing team can get their bodies underneath the ball, it is 'held up' and no points will be awarded). A try is worth five points in rugby union and four points in rugby league.
Goal:
Think field goal in football! A goal is scored when the ball is kick through the uprights at the end of the field and can be scored mid-game from a drop kick (worth three points), from a penalty kick (usually from a plastic tee and worth three points) or after scoring a try (called a conversion and worth two points).
Drop goal:
When a player kicks the ball from their hands through the uprights in the try area. The ball must go from the players hands, bounce off the ground and then be kicked through the posts to score points. Watch some examples here.
Scrum:
A contest for the ball involving eight players who bind together and push against the other team's assembled eight for possession of the ball. Scrums restart play after certain minor infractions.
Scrum cap:
You know that weird thing that looks like a fabric helmut? Well, that's called a scrum cap and its purpose is to protect a player's ears while in the rough n' tumble scrum. If you want to see what happens when a player doesn't wear a scrum cap just take a look at this…
Maul:
A maul is formed when at least three players from either team are standing up in contact, challenging or driving the player with the ball.
Ruck:
The ruck is similar in principle to the maul but instead of the ball being held up by players, it is on the ground and players are driving over it for possession.
Line out:
No, rugby players aren't doing cheerleading moves in the middle of a match (although, TBH, that would be a lot of fun). A line out occurs when the ball is thrown, kicked or tackled out of bounds. Two players on each team are lifted into the air beside each other, while the hooker (number 2) on the team in possession throws the ball into play, ~hopefully~ getting it to a teammate being lifted.
Knock on:
When a player drops, knocks or pushes the ball forward this results in loss of possession and the other team being awarded a scrum. This is because the ball is only allowed to move backwards.
Blood bin:
A blood bin or replacement occurs when a player sustains a cut and is bleeding badly. At this time, a replacement is allowed while the injured player receives treatment for their cut and is allowed back to the field if they can stop the bleeding within 15 minutes. Once this time elapses, the temporary replacement becomes permanent and the injured player is not allowed back on again. Bloody hell.
Cap:
A cap is a metaphorical term for when a player participates in an international match for their country. Retired New Zealand rugby player Richie McCaw holds the record for most international career rugyby caps with 148. Caps are also awards in other sports, like soccer/football.
Beer ups:
The best part of rugby! After a game, the home team invites the visiting team to the local pub for a meal and beer to celebrate (no matter who won or who lost). Friends, family and fans also join in on the celebrations. Talk about some good ol' fashioned sports(wo)manship. It's also where a player might have to shoot the boot and chug a beer from a rugby cleat (boot) if they happened to score the first try of their career. Sports traditions are weird AF sometimes…

Written by Guest Writers: Victoria Spanton and Sam Brewer
Don't get The GIST's twice-weekly newsletter yet? Let's make it email official.
FAQs
What's the difference between rugby union and rugby league?
Rugby union and rugby league are like the Hadid sisters, same-same but different. Rugby union is the real OG, as rugby league is a faster-paced game developed from the original rules of rugby union. This is why rugby union is usually referred to as 'rugby' and rugby league is NEVER referred to as 'rugby' but often referred to as 'league'.
Rugby and league have the same aim of the game: get the ball to the opposite end of the field for a try or goal to gain points BUT to show you how they differ, here's a v. cool chart:
Rugby (Union)

League

Players: 15 players on the field

Players:

13 players on the field

Tackles:

Infinite number of tackles. Play just keeps going until one team loses possession or the opposition steals the ball.

Tackles:

Finite number of six tackles before the team has to 'turnover' the ball – give it to the other team.

Points:

Try = 5 points; Drop Goal = 3 points; Conversion = 2 points

Points:

Try = 4 points; Goal = 2 points; Drop Goal = 1 point

Rucks:

When a player gets tackled and 'goes to ground', they need to try to get the ball backwards to their players standing behind them.
The other team is trying to come in over the top to steal the ball- this is usually when 'rucks' form.

Rucks:

Don't exist in league- they just have a 'play the ball' where, once a player is tackled, they get up and roll the ball through their legs with their foot and the other team can't try to steal it.

Scrums:

Union has contested scrums (players actually push against the other team's scrum to try to gain possession of the ball). Scrums happen to restart the game after a minor infringement of the rules.

Scrums:

League has uncontested scrums as the ball is fed to the second row and has little chance for the hooker to try and steal it. Basically, there's no point to it other than to restart the game after accidental infringement.

Popularity:

Played internationally in many countries. Top teams in World Rugby are New Zealand, Ireland and Wales.

Popularity:

League is popular in the UK, Australia and New Zealand and has only recently expanded to a few other countries like Canada.

Major Leagues:

Super Rugby (

Argentina, Australia, New Zealand, South Africa & Japan

), Premiership Rugby (

England

), RFU Championship(

England

); Major League Rugby (

USA & Canada

)

Major Leagues:

Super League (

England & France

), Betfred Championship & League 1 (

UK, Wales, France, Canada

), National Conference League (

England

); National Rugby League(

Australia

)
I've heard of the New Zealand All Blacks, but what pro rugby teams are there in Canada?
Like the All Blacks (New Zealands's national rugby team that is known for their infamous 'Haka'), Canada has several teams that are part of World Rugby. Rugby Canada has both men's and women's teams and, yes; there is full contact in women's professional rugby.
Rugby Canada also has both men's and women's sevens teams. Sevens is another form of rugby derived, again, from the real OG rugby (union). To keep it simple, sevens is a stripped down version of rugby with the main difference being the number of players on the field pitch. Rugby has 15 players on the pitch (reminder: league has 13) and sevens has eight. Gotcha! Just kidding! Sevens has seven players on the pitch.
By now, you may have hopped onto the Toronto Wolfpack bandwagon. If you haven't, why TF not? The Wolfpack became the first league team in Canada when they were inaugurated into the British Rugby Football League in 2016. Yeah, baby! Yeah!
Since we have a rugby league team in the GTA, we obviously had to get a rugby union one! And they say you can't have your cake and eat it too… Pfft! The Toronto Arrows joined the Major League Rugby (MLR) in 2019 and are the only Canadian team.
Do rugby players really not wear protective padding or equipment?
Who wears short-shorts? Rugby players do! But besides the shorts, jersey, mouthguard, cleats and socks, rugby players do not wear any protective padding or equipment which is v. different from the other contact sports we're used to seeing (hockey, football, lacrosse etc.). However, rugby has certain laws such as high tackles and neck contact (Law 10.4), challenging players in the air (Law 10.4), and scrum feed (Law 20.6) that players must abide by to help avoid serious injuries to themselves and other players. Grab my Chihuahua; I'm ready for Harvard Law now.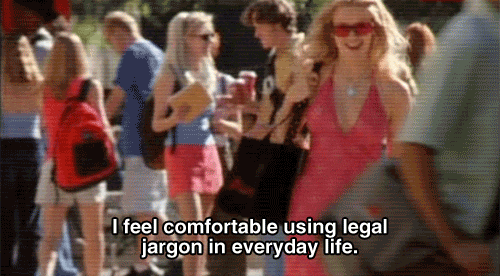 Since concussion prevention is a major focus in contact sports these days, you might be also wondering why rugby players don't wear helmets to help prevent them?
Some rugby players wear scrum caps that can provide additional protection from cuts and head injuries but, TBH, it has nothing to do with preventing concussions. The scrum cap is a fashion faux pas very thin layer of padding; it was created to prevent cauliflower ears. Wearing head gear any larger than a scrum cap wouldn't exactly work for this game as it would be impossible for the players to bind in the scrum.
Which sport is rougher: rugby or football?
Depends if you ask the player on the pitch or the one on the field but, I mean, the fact that rugby has a 'blood bin' could probably answer this question…
Does rugby have a Super Bowl like football?
No, not exactly. Rugby union has a Rugby World Cup for both men and women (and even recently dropped any gender markings for the tournaments in a landmark push for equality) which are international championships that are formatted similar to the FIFA World Cup. Teams from countries have to qualify to compete.

Rugby also has the prominent Six Nations Championship (aka the Guinness Six Nations) which is an annual international rugby union competition between England, France, Ireland, Italy, Scotland, and Wales. Since we weren't invited to the Six Nations, we said 'f*ck 'em' and started our own thing called the Americas Rugby Championship (we even sometimes call it the 'Americas Six Nations'), a competition that hosts Argentina, Brazil, Canada, Chile, the US and Uruguay.
Written by Guest Writer Sam Brewer
Don't get The GIST's twice-weekly newsletter yet? Let's make it email official.
Basketball Guide, Glossary & FAQ
Basketball is made up of four quarters lasting 12 minutes each. Five players on each team are on the court at the same time. The point of the game is to shoot a basketball in a hoop to get the most baskets which = the most points. A basket counts as either two or three points, depending on how far the shooter was from the basket when she took the shot ... read more here.
#TakeAKnee began back in summer '16, when San Francisco 49ers quarterback, Colin Kaepernick (pronounced CAP-ER-NICK), started kneeling during the national anthem in protest of racial inequality and police brutality toward people of colour... read more here.
The GIST's co-founders talk about their journey of creating a sports media business for women, by women. They'll cover everything from quitting their jobs to be entrepreneurs to being women in a male dominant sports industry... read more