November 26th
The Calgary Stampeders FINALLY won the Grey Cup. • It's crunch time for William Nylander to figure his sh!t out. • East Coasters will "schoon" be getting a football team. • Phil Mickelson won "The Match". • The Toronto Raptors are THE BEST team in the league… but still have people second-guessing them. • Justin Bieber and Hailey BIEBER (yes they're married) went to a Leafs game this weekend and you will probably hate the Biebs' steeze. • Cardi B and Kendall were spotted courtside. • And, join us for real-time sassy GIST commentary this week!
Third Time's the Charm?
The GIST: Since this is the last time you'll get a sweet, sweet GIST newsletter before Sunday's Grey Cup showdown, we wanted to make sure you had all the deets.

Who's Playing?: The Ottawa Redblacks and Calgary Stampeders.

Should I Care?: OF COURSE! This game has 'classic' written all over it. This is the third year in a row the Stampeders are in the Grey Cup but they lost in both previous finals. In 2016 they lost to the—you guessed it—Redblacks. The Stamps were the best team by far this regular season and they're playing this Sunday with a chip on their shoulder.

Anything Else?: The Redblacks will be playing without their star defensive player Jonathan Rose. He got into some sh!t last Sunday in the East Final and shoved an official during a sideline skirmish. C'mon, man! The CFL said 'oh hellllll no' (direct quote) and suspended Rose from the Grey Cup. He's appealing that decision, but hitting a ref is a big no-no so we doubt he'll be playing.

So when's this going down?: The 106th Grey Cup is being played in Edmonton at 6 P.M. ET on Sunday. Expected temperatures are not warm.
It's the Final Countdown
The GIST: Toronto Maple Leafs star forward (and sassy blonde) William Nylander still hasn't played a game with the Leafs this season. And if he doesn't play by December 1st, he can't play for the rest of the season. Not good.

But Why?: The 22-year-old Swede is a restricted free agent and tied to the Leafs. This entire season, he's been holding out for a more favourable contract. It's speculated that Nylander is likely looking for something close to $7M USD per season; whereas, the Leafs are looking to pay him closer to $6-6.5M. It's not really an unrealistic ask, but the Leafs only have so much money to play with and already have a lot of top talent they're paying the big bucks to.

So What're The Options?: Toronto can either sign him to a contract, trade him to another team, or accomplish neither. If the latter happens, Nylander won't play for the rest of the season and will be available for any team to sign in 2019.

What We Think (Okay Hope) Will Happen: Well, OF COURSE, we want Willie (yes we're on a nickname level with the guy) to come back and play. He's a huge asset to the Leafs and could be a major key for the playoffs. And… this weekend head coach Mike Babcock may have dropped the news that Willie could be back on the ice this week. Crossing our eyes, legs, fingers and toes that Babs (yes we're on a nickname basis with him too) is right.
GIST Some Other Sh!t you Should Know
- Remember how stoked we were about The Match? To the surprise of most experts, it was Phil Mickelson and not Tiger Woods that came out on top to win the $9M USD prize. Phil won with a birdie on the 22nd hole - that's right this showdown went into a playoff (basically golf overtime). Our fave part of 'The Match'? Phil's v jokes reactionwhen the winner's belt seemed sized for Tiger and not him. Our least fave part of 'The Match'? The dah-rama with Comcast's streaming.

- The Toronto Raptors continue to kick @$$. After beating the Miami Heat on Sunday night, the north squad is now 17-4 and sitting pretty atop the NBA standings. But SOMEHOW people are still skeptical of their skills, saying Toronto has only beat mediocre teams so far and have yet to prove themselves. To those skeptics we say: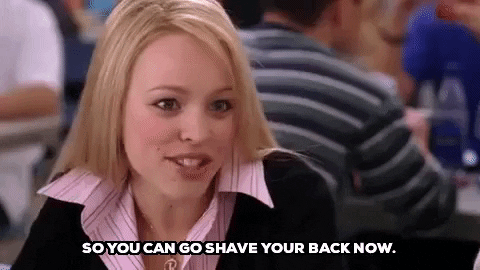 The Raps face a tough 10-game stretch against some of the best teams in the league (check out "What's Up This Week" for more info) that will hopefully prove they're as good as their record says they are.

- The love of our life Justin Bieber watched the Toronto Maple Leafs on Saturday with his new wife Hailey Baldwin (and yes her Instagram handle has been changed to haileybieber omfg) because how else would you spend your honeymoon? Highlights include Don Cherry's sassy commentary on their PDA and Biebs' v questionable hoodie, plaid pants and jersey combo.

- In other news, you can thank American Thanksgiving for giving us all the celeb sports cameos our little hearts desired this week. On Friday, Cardi B sat courtside at an Atlanta Hawks game and was so classic Cardi. Gotta love her. Meanwhile, Kendall Jenner was blown a kiss while sitting courtside at the Philadelphia 76ers game, but it definitely wasn't from who she wanted. Kendall was there to support her new beau, Ben Simmons, but it was her ex, Cleveland Cavaliers' Jordan Clarkson, who tossed in the last bucket of the game to seal the Cavs' win and sent a little loveKendall's way. BRING. ON. THE. DRAMA.
What's Up This Week
Tonight: We are switching things up and are giving real-time interactive, sassy and informative GIST commentary for tonight's Boston Bruins vs. Toronto Maple Leafs game at 7 p.m. ET. Wanna join? Of course, you do. Click here to tune in!
Tuesday: Tomorrow, the Raps are squaring off against the Memphis Grizzlies at 8 p.m. ET. But, Thursday is gonna be the real test. On Thursday, the Raps are hosting the reigning NBA champs - Steph Curry and his Golden State Warriors. We'll be doing real-time commentary for this game as well, and, all of our GISTers that tune in will have a chance to receive an extra lil' perk. Click here to join us Thursday.
Shout-Out: HOLLA at our GISTer sisters who won the second day of GISTMAS: Jennifer Kates, Liz Haney, Jess Lamont, Kate Thomas, Stephanie Spagnolo, Alicia Broome, Emma Squires, Brittany Almeida and Samantha Currie! WE LY, thanks for spreading the gift of The GIST this holiday season. <3