MJ vs. LeBron - Who's the Greatest of All Time?
The background...
The question that remains at the forefront of basketball conversations everywhere, season after season, is a question that every sports fan grapples with — who is the greatest basketball player of all time? The GOAT? The wearer of the proverbial NBA crown? With Lebron James now donning the purple and gold for the storied LA Lakers, we couldn't think of a better time to revisit this conversation.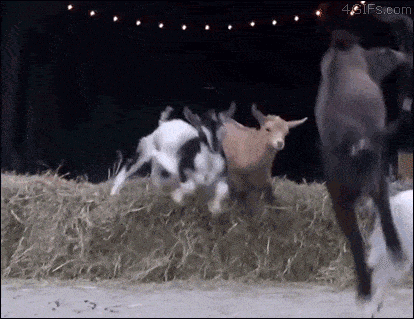 Basketball fans, analysts and players are in general agreement that there are two athletes vying for the title: former Chicago Bulls shooting guard Michael Jordan and current Lakers power forward LeBron James. Both MJ and LBJ were/are phenomenal basketball players with careers littered with awards, championships and impressive statistics. But, just like in sports, we need a winner! The question of MJ or LeBron being the GOAT might never truly be resolved, but basketball fans everywhere can get pretty passionate about their choice. We won't tell you which player to choose, but we will lay out everything you need to know to take a side (or be a well-informed fence sitter if that's more your style).
Though both of these athletes have made contributions to their communities, starred in movies and very much have lives outside of basketball, we're just going to compare these all-stars on the NBA stats sheet.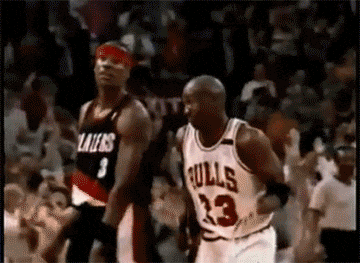 Starting with Michael…
Let's start with MJ — aka Michael Jordan, his Airness, Air Jordan and the lone defeater of the MONSTARS (perhaps only until Space Jam 2). MJ was drafted into the NBA in 1984 to the Chicago Bulls; he was the third overall pick after a successful collegiate campaign at the University of North Carolina. MJ's career stretched from 1984-1993, followed by a brief hiatus playing minor league baseball (because the dude just loves the game) before returning to the NBA from 1995-1998. In '98, MJ retired again but returned in 2001 to play for the Washington Wizards before his next and final retirement in 2003.
So here's why you could consider MJ the GOAT:
MJ led the Chicago Bulls dynasty that won six championship titles over eight seasons (1991, 1992, 1993, 1996, 1997, 1998).

He topped the league in scoring in the regular season for all six of these seasons, averaging around 30 points per game (PPG) each year.

MJ was the recipient of the Finals MVP for each of these playoff runs.

The championships are MJ's edge in his claim to the GOAT throne, but he also led the league in scoring 10 times (an NBA record) with seven consecutive scoring titles, while winning the league's MVP five times.

MJ made 14 All-Star appearances and was on the All-NBA team (the best players at each position) 11 times.

He was great on both sides of the ball finding himself as a recurring member of the NBA All-Defensive First Team (nine times to LBJ's five) and even took home Defensive Player of the Year in 1988.
So…it's definitely safe to say that MJ has the individual accolades, championships and overall resume of one of the greatest to ever play the game. Even before he finished adding to his trophy cabinet, many considered him to be the greatest to play the game.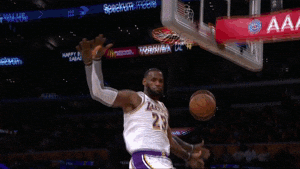 Over to LeBron…
Challenging MJ's claim to the GOAT title is LeBron James — aka King James, LBJ, the Chosen One and the newest member of the Toon Squad (coming 2021). LeBron had been touted as the 'next great basketball star' since his high school years.
Here's why you could consider LBJ the GOAT:
In contrast to MJ, LeBron didn't play collegiate basketball and was drafted first overall by the Cleveland Cavaliers in the 2003 NBA Draft right out of high school! Yep, young LeBron was so good there was legit no need for him to go to college, he was ready to jump right into professional ball.

LeBron played with the Cavs from 2003-2010 before deciding in free agency to join the Miami Heat. He was a member of the Heat from 2011-2014 winning two championship titles before rejoining the Cavs where he won his third title in 2016 and the first ever in Cavs history.

LBJ won the Finals MVP for all three of his title-winning runs.
LeBron is currently in the midst of a new four-year deal with the Los Angeles Lakers.
The biggest discrepancy between LeBron's legacy and MJ's is the championships. LeBron has only won three titles but made it to the NBA Finals in eight-straight seasons. He probably would have won more titles if he didn't have to constantly play against the dream team Golden State Warriors.

While MJ led the league in scoring 10 times, LeBron's stats are more well rounded. As his career has developed, he has become a proven passer, scorer and rebounder.

Before the end of his career, LeBron is projected to be in the top 10 in almost every major statistical category; he is already 5th all-time in scoring (MJ is 4th), but he also has over 8,000 career assists and rebounds (that's a lot more than MJ has in those categories).

He won the scoring title in 2008, as well as four league MVPs. LeBron has made 14 all-star teams and been a 14-time All-NBA selection (three more than Michael).

The biggest advantage LBJ has moving forward is that, although he's 33 years old and has been in the league since 2003, he's still playing and he's getting better (like, how?!). LeBron has had some of his best statistical years in the latter part of his 16 seasons in the NBA.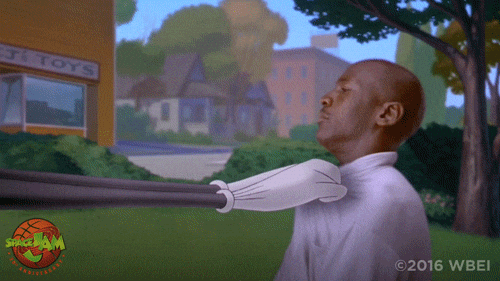 So, who you got?
If the aliens invade Looney Tune Land again with MJ and LBJ in their primes, whose house are Bugs and Daffy going to? Whomever you choose, you really can't go wrong. Both these athletes have left a huge mark on the basketball world.
P.S. This website has a really great graphic comparing every possible statistic between our two GOAT competitors. Give it a look if you want to improve your argument even more.
That's #thegistofit
Written by: Guest Author Lisa Minutillo
You may not believe it, but a basketball court is more than just a place for awkward middle school dances... read more here
Tiger was/is arguably one of the best golfers we've ever seen. Thanks to Tiger, golf's popularity skyrocketed, especially among young viewers - golf was no longer just an old, rich, white dude sport. But then… after 15 years of being the Regina George of golf, sh!t hit the fan. From infidelity, drug abuse and surgeries, to say Tiger went through a rough patch would be an understatement...read more here
The GIST's co-founders talk about their journey of creating a sports media business for women, by women. They'll cover everything from quitting their jobs to be entrepreneurs to being women in a male dominant sports industry... read more